Mica mines to the United Nations' Summit: Inspirational story of Bal Mitra Gram's Kajal Kumari
Six years may not seem like a very big time for all of us but for Kajal Kumari past 6 years have been life transforming. From a very tender age, she was forced to work in the mica mines near her village in Koderma district of Jharkhand to support her family. Withdrawn from there six years ago by Bal Mitra Gram and proving once again that everyone deserves a second chance at life, 20 year old Kajal spoke as a child leader representative at the United Nations' "Transforming Education Summit' held in New York from 16th to 19th September, 2022. Her appeal at the summit was simple yet hard hitting, "Education is the key for children, as it allows them to break the poverty that forces them to work as child labourers or early marriage. If global leaders invests more in education to create opportunities for children that will enable them to come out of the grip of child labour and exploitation".
Once a child labour and now a proud child rights activist, Kajal Kumari is a shining example for her peers and a dream for millions of children around the globe who are still trapped in the shackles of child labour.
While in New York, she also highlighted the importance of education at the 4th "Laureates and Leaders for Children" Summit in the presence of Nobel Peace Laureate Leymah Gbowee, Former Swedish Prime Minister Stephen Lofven and Human Rights activist Kerry Kennedy. "Laureates and Leaders for Children" is a brain-child of Nobel Peace Laureate Kailash Satyarthi as a first of its kind platform bringing together Nobel Laureates and Global Leaders to build a sense of urgency, collective responsibility and a strong moral voice to galvanize political will for making this world peaceful where all children are healthy, safe and educated.
Elaborating on her story as a child labourer, she told the august gathering at the United Nations about her horrifying and near-death experiences as a mica labour. After she was withdrawn from mica mines by Bal Mitra Gram she actively participated in it and was later elected as the President of the Children's Council (the Bal Panchayat). As President, she helped in withdrawing children from mica mines, enrolled them in school, prevented child marriages, raised awareness in her and surrounding villages and also helped the community obtain access to the governments' welfare programs.
Bal Mitra Gram (BMG) is a unique model conceived by Kailash Satyarthi to prevent child exploitation like child trafficking, child labour and child marriage right at its source along with addressing other cross-cutting issues of education, child sexual abuse, water, sanitation, hygiene and livelihood by taking democratic actions to empower the community based stakeholders.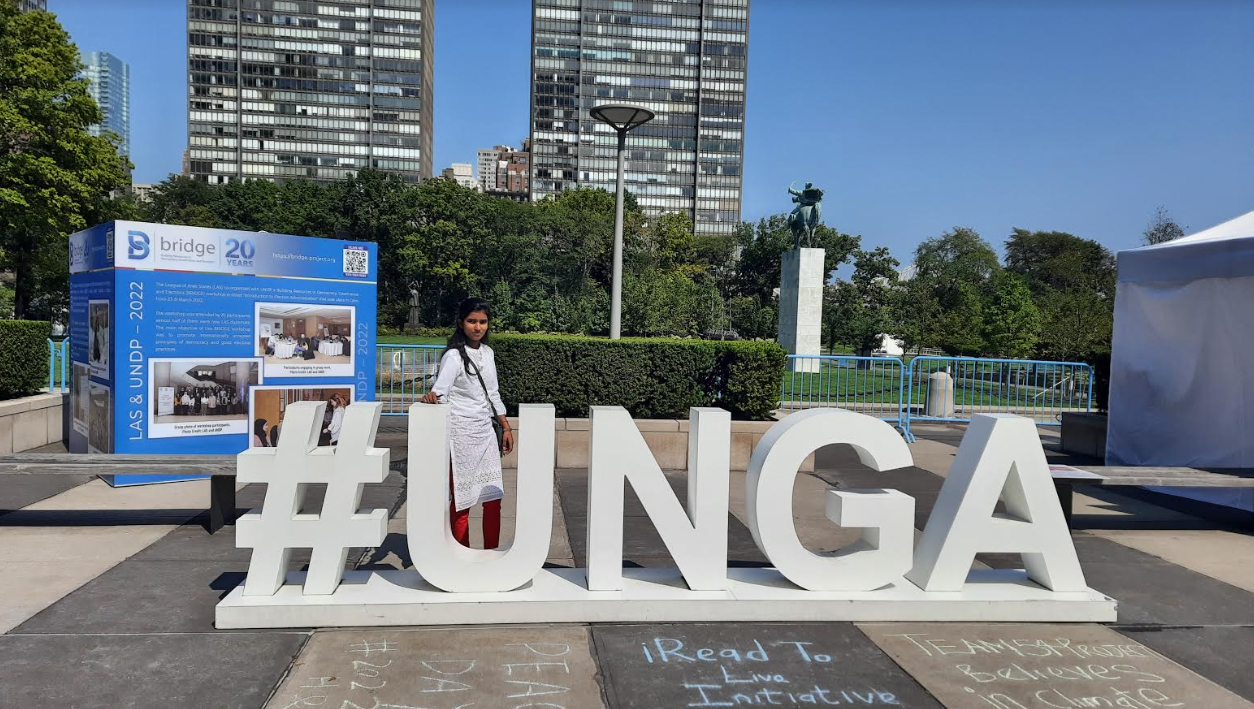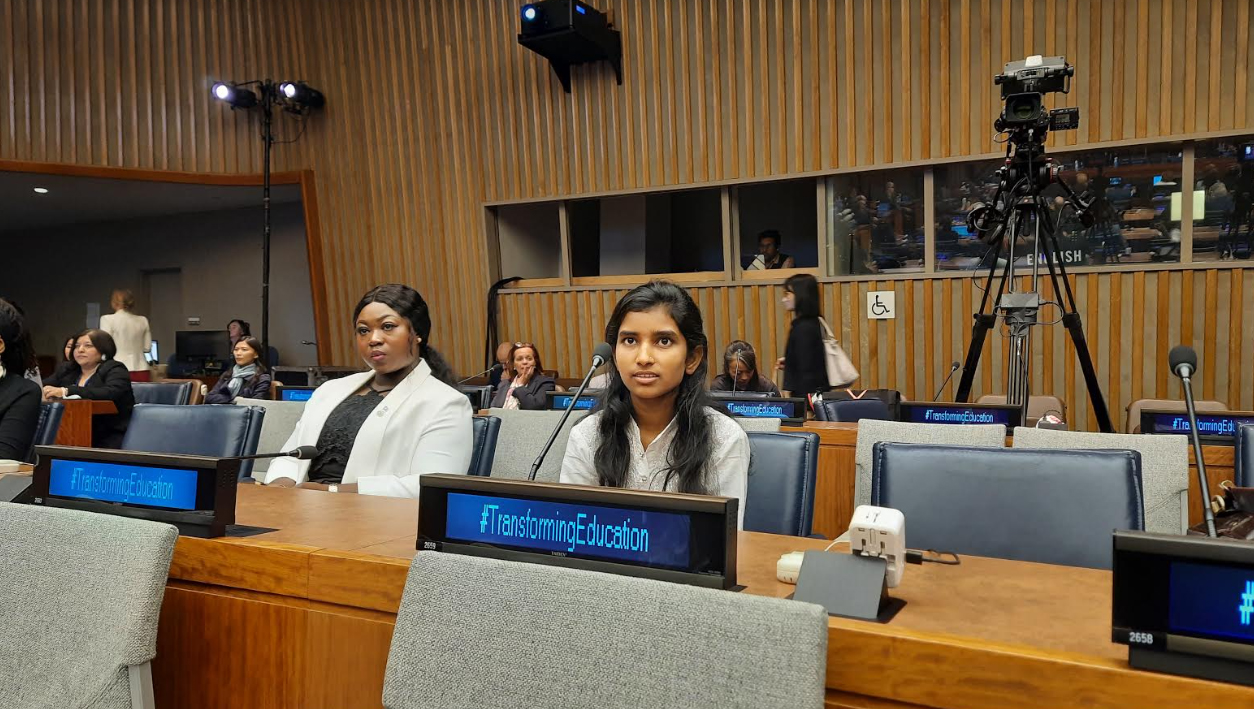 ---
PROMOTING DIGITAL EDUCATION AMONG MARGINALIZED CHILDREN IN KODERMA, JHARKHAND
The COVID-19 pandemic has affected educational systems across the country, leading to the near-total closures of schools, universities, and colleges. Most governments around the world have temporarily closed educational institutions in an attempt to contain the spread of the virus. This prolonged closure has a disproportionately negative impact on the most marginalized children in the rural areas.
In addition, since children specially from the remote rural areas are out of school due to the pandemic, they are not only losing interests in education but they have also become more vulnerable to trafficking for labour and other forms of exploitation.
Therefore, keeping in view the imminent dangers of the third wave of COVID-19, the Police Department of Koderma, Jharkhand, and the reputed newspaper Dainik Jagran took an initiative to support children in the rural Jharkhand to continue their education through digital modes.
For this cause, people were requested to donate smartphones, tablets and laptops so that the marginalized children who lack access of digital modes of education, can be linked to online classes and leaning platforms to continue their education.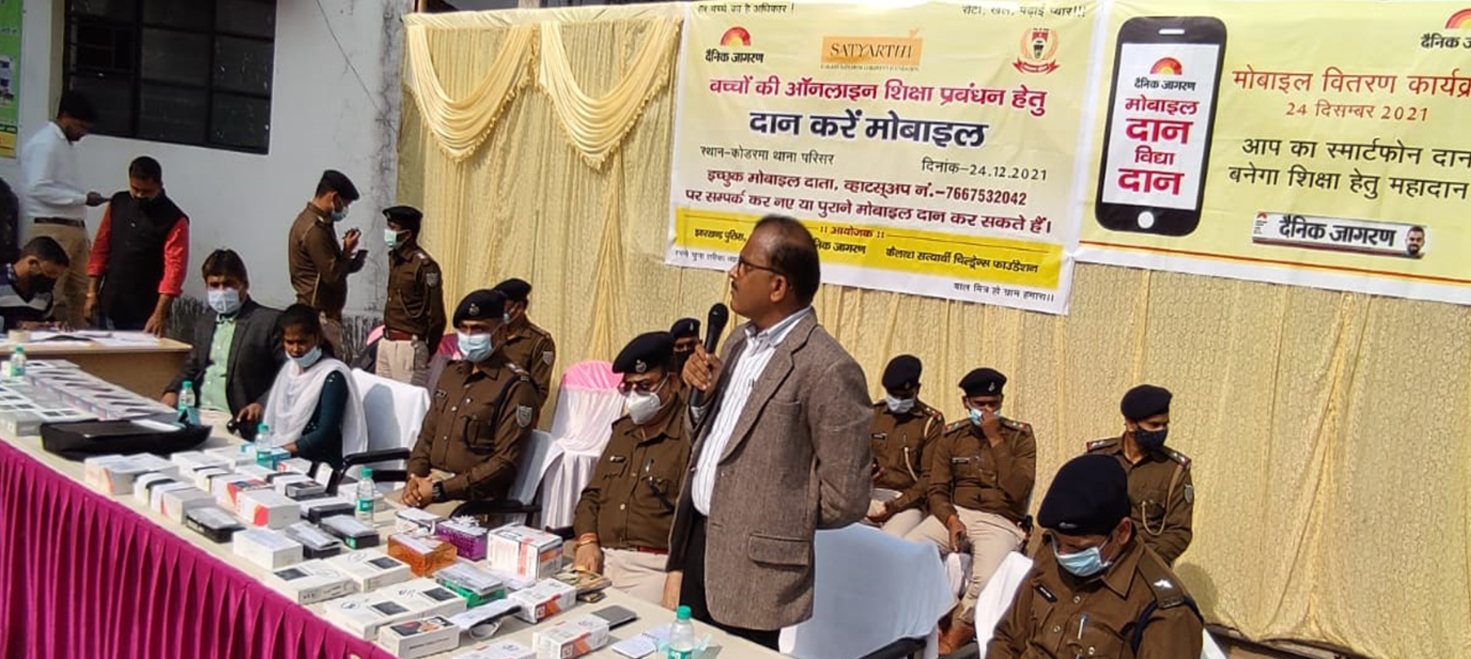 Since KSCF's intervention model, Bal Mitra Gram is actively working in all the blocks of Koderma district, the identification and selection of children for digital devices distribution was done by BMG teams working in the village levels.
Given below are the details of the number of digital devices distributed.
Smartphones - 42 Tablets - 15 Laptops - 01 Total - 58
The smartphones were allotted to children who do not possess a smartphone at homes or in their families. Whereas tablets were distributed to children who have done their intermediate. This will also assist the elder children to teach and help avail online classes to other children of the junior classes. And the laptop was given in the Kasturba Gandhi Balika Vidyalay (KGBV).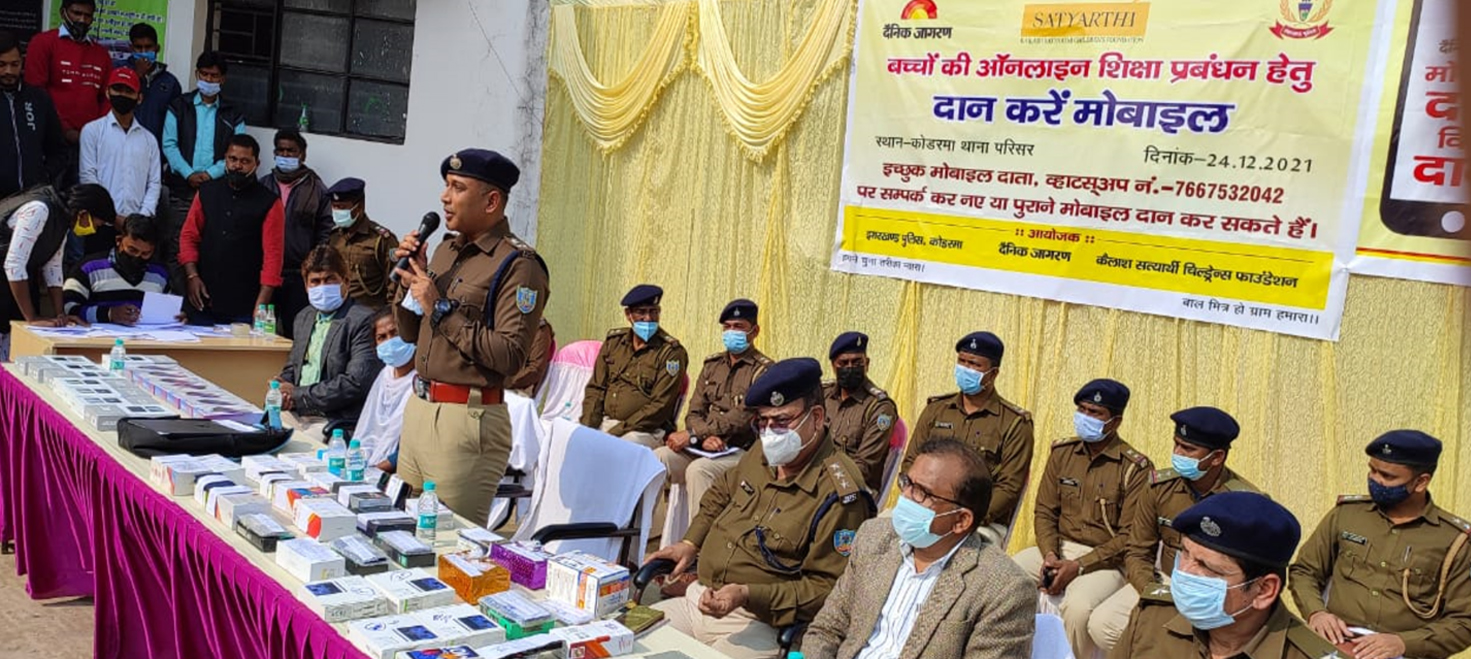 For the devices distribution, a program was organized on 24th December 2021 in the Koderma police station premises. In which Koderma Superintendent of Police Mr. Kumar Gaurav, Dainik Jagran's local editor Mr. Anoop Kumar, Kailash Satyarthi Children's Foundation's Director, Mr. Om Prakash and a senior worker of the organization Mr. Govind Khanal and all the workers and in-charges of various police stations of the district, including dignitaries of the city, media persons, along with children from various BMGs participated.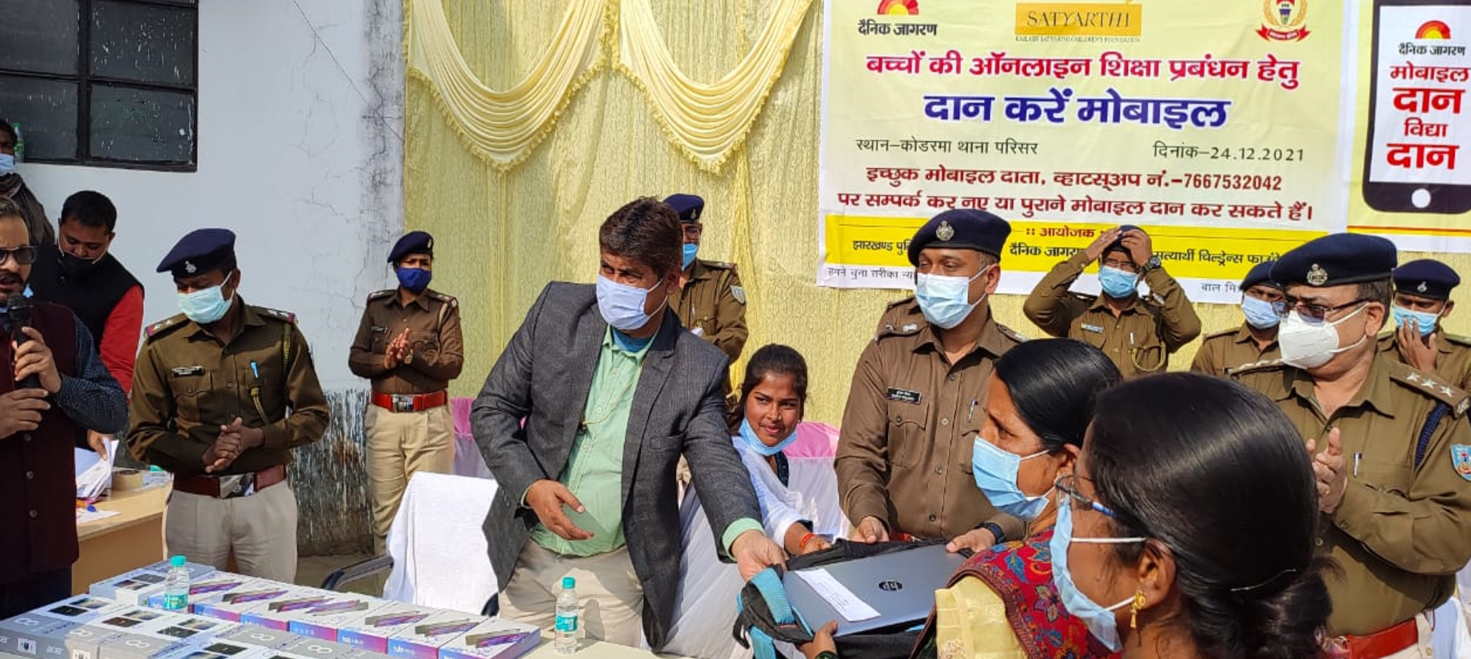 During the program, DSP of the district requested Kailash Satyarthi Children's Foundation for their contribution in providing trainings on child protection and organize workshops in Bal Mitra police stations on various issues concerning children's exploitation to the police personnel across the districts.
---
Bal Mitra Gram Sports Festival: Promoting Development through Sports Opportunities
Participation in sports improves children's educational attainment and skills development including empowerment, leadership and self-esteem – contributing to their overall well-being and future prospects (Participation in Sport Can Improve Children's Learning and Skills Development, 2019).
Sports not only promotes children's health and physical development; many empirical evidences suggest that sports can have a powerful impact on their overall education and life skills development. These evidences must be employed for enhanced opportunities for sports and should lead to more investments in sports especially for the most vulnerable children.
In this regard, Bal Mitra Gram (BMG) that aims for the protection of children at the grassroots by developing a child-centric community development strategy, organized the first sports festival at Domchanch block in Koderma district in Jharkhand.
15 children's teams from different Bal Mitra villages participated in the festival. Many children from the Bal Mitra Gram actively participated in the festival. During the festival, kabaddi and football competitions for children were organized. All children were seemed very excited during the competition and displayed healthy sportsmanship spirits.
DETAILS OF THE FESTIVAL/PROGRAMME WERE AS FOLLOWS:
Bal Mitra Gram Sports Festival was organized under the joint aegis of Koderma police and KSCF. Various dignitaries participated in the event, such as block head – Mr. Satyanerayan Yadav, the local MLA and former education minister, Dr. Neera Yadav. And Mr. Kumar Gaurav, the Koderma SP attended the event as a chief guest.

SP Koderma, Mr. Kumar Gaurav had announced that sports coaches will be provided by the police department to enhance the sports talent of the children in the Bal Mitra villages, to enhance the confidence in the children.

The local MLA and former education minister, Dr. Neera Yadav had announced that 500 sports jerseys and track suits for the children of BMG to be provided, which will cost around 2 Lakh Indian Rupees.
Domchanch block head Mr. Satyanerayan Yadav appreciated the work done by KSCF of ensuring education, sports and safety of children in the entire district including Domchanch. He said, that as a public representative and social worker, he will always be going to support children and the organization. In addition, he announced to provide sports jerseys to 51 players who participated in the sports competition. The cost of which is around 25000/- INR.

It was decided to constitute "Bal Mitra Village Sports Club" in various gram panchayats of the district and organize annual Bal Mitra Gram sports festival. And in order to scale the impact, the BMG programme looks forward to expand the sports coaching and competition to child-friendly villages in other states.

The sports festival organized by Bal Mitra Grams programme is an innovative step towards promoting holistic development amongst children. This initiative will help children realize their capabilities, talents and will enhance their sports skills and confidence. The participation of children, especially the active participation of girls reflects the growing gender equalities in the Bal Mitra villages.
Overall, the sports festival as well as the future promises made, have a very clear goal of protecting children from exploitations, spreading awareness about their rights and promoting education with skill development. The festival aims for long-term social change with inter-related goals; the clarity in purpose with efficient execution promises great results.
Sources:
Participation in Sport Can Improve Children's Learning and Skills Development. (2019, March 26). UNICEF-IRC. https://www.unicef-irc.org/article/1900-participation-in-sport-can-improve-childrens-learning-and-skills-development.html
---
5 Schools in Koderma See a New Lease of Life, Transform Into Model Schools
Five Schools in Domchanch block of Koderma district are now getting converted into model schools by Kailash Satyarthi Children's Foundation(KSCF). Along with smart classes and sports provisions, children are being given the opportunity for enhanced music and dancing skills in the model schools. To enhance their skills further, music instruments are also being distributed amongst children.
In order to make the government schools in the villages as model schools, the intent of KSCF is to provide various facilities to the Children. To inculcate their sports capabilities, training opportunities are also being provided in schools. Besides developing these five schools, more than 40 girls' football teams have been formed.
The facilities in these government schools like music and sports with quality education will surely create a bright future for these children as well for the country at large.
---
Bal Mitra Gram Film Festival To Spread Awareness on Child Protection In 600 Villages Across India
Bal Mitra Gram Film (BMG) Festival is an initiative to spread awareness on child protection through most popular medium of information and entertainment, films. The aim of the BMG Film Festival is to reach maximum number of people through cinema and sensitise them about child rights issues and its solutions.
The Festival began on 10th December on the eve of International Human Rights Day and will continue till 11th January 2022, to mark the celebration of Surakhit Bachpan Diwas and the birthday of KSCF's founder, Nobel Peace Laureate Kailash Satyarthi.
The Festival will cover two child rights centric films, Jhalki and The Price of Free were screened for the children and the villagers, to be organised in more than 600 villages from Bihar, Jharkhand, Rajasthan, Madhya Pradesh, Karnataka, and Utter Pradesh. In Jharkhand, the film festival opened from Inter – College Domchanch in the Koderma district. Four shows were conducted and 885 people watched the films.
---
KSCF Distributes Cycles to Encourage Girls to Continue Their Education
The Bal Mitra Gram (BMG) team distributed bi-cycles to 25 girls from BMGs from Jharkhand, and Uttar Pradesh as part of its intervention to help girls continue their education. The majority of the BMGs are located in interior parts of the panchayat/ districts with inaccessible terrain and inadequate public transport. The secondary and senior secondary schools are located in block/panchayat headquarters, far away from the BMGs. All these factors together led to girls discontinuing their education after upper primary as they have to travel long distances without any safe commuting options.
To address this challenge, KSCF distributed bicycles to girls from economically weaker families and the ones doing well in academics. Now as the schools are re-opening after a year and a half of lockdown, safe travel is necessary to ensure the children's retention in school.
Therefore, on 6th October 2021, KSCF provided bi-cycles to 14 girls from poor backgrounds from Koderma in Jharkhand and 11 girls from Meerut, Uttar Pradesh. A total of 28 girls from Jharkhand will be given these bi-cycles. 14 more bicycles will be provided to girls from economically weaker backgrounds from Koderma and Giridih districts in Jharkhand on 11 October. 11 cycles were also distributed among meritorious and needy girls of BMGs.
During the bi-cycle distribution programme attended by 35 members in Koderma, Manish Kumar, Sub- Divisional Magistrate, Koderma was the Chief Guest organised in Bangarkhalar village, Koderma. Addressing the girls during the programme, Mr. Kumar said "These are not just two wheels of a bicycle but wings to fly and achieve your dreams".
In Meerut, Dr. Amar Singh, Community Health Center (CHC) In-charge, Vaibhav Sharma, Block Resource Coordinator (BRC), Pradeep Kumar, Sub Inspector, and Gram Panchayat President attended the event.
On International Girl Child Day, 30 girls from Karnataka, 50 girls from Madhya Pradesh, and 35 girls from Rajasthan will be provided with the bi-cycles on 11 October 2021.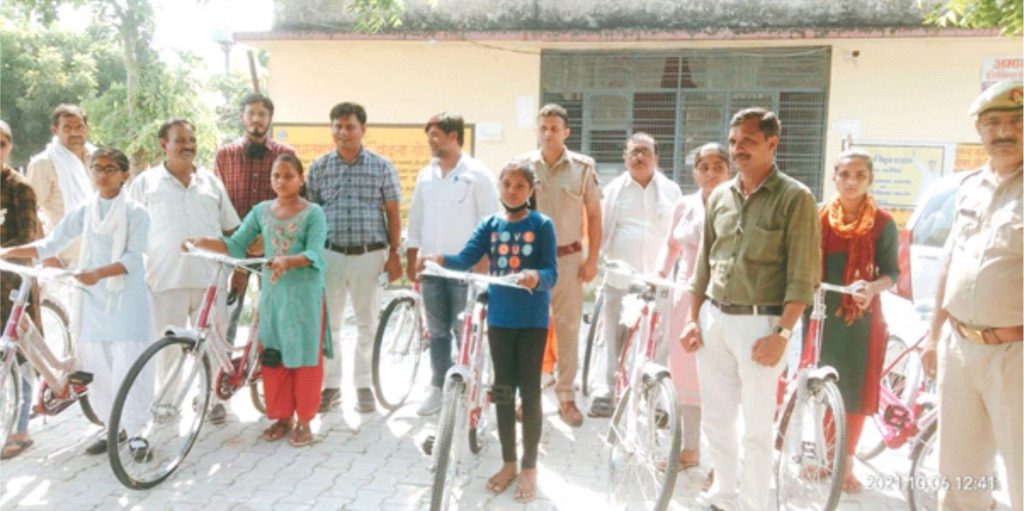 Bicycle distribution in Meerut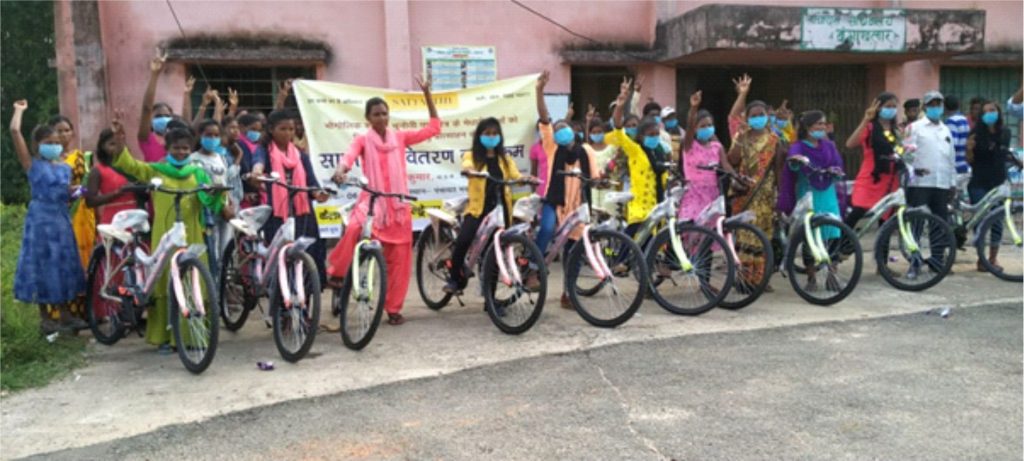 Bicycle distribution in Koderma
---
Children of Bal Mitra Gram in Koderma and Giridih Districts Present Charter of Demands to State Education Minister, Mrs Annapurna Devi
On 26 September 2021, children from Bal Mitra Gram in Mica Mining areas of Koderma and Giridih districts met with Mrs Annapurna Devi, State Education Minister, Government of India. The children especially from interior villages apprised the State Minister about the challenges faced by them on a day-to-day basis to attend schools.
The children shared that the interior forests and inaccessible terrains often force the girls to discontinue their education after middle school, as their parents fear their safety. Children have to travel through unguarded forest areas to reach the schools as public transport is scarce. More than 90% of the girls in these regions are forced to leave school before completing secondary education. The dropped out children are then forced into child marriages, child labour in mica mines, and often end as the victims of trafficking.
Close to 1368 children also drafted a set of suggestions on ensuring access to education, which were presented to the Minister.
The children during the discussions also advocated for the following solutions with the Minister: - Upgrade the Middle Schools to Secondary and Senior Secondary Schools - Sanction construction of a College with a hostel facility in Koderma and Giridhi district. - Increase the number of seats in Kasturba Gandhi Balika Vidyalaya - Arrange public transportation facilities in interior villages without schools, so that children can attend schools in Tisri, Gawan, and Domchanch blocks. - Amend the Right to Education Act, 2009 to extend the free and compulsory education till class XIIth.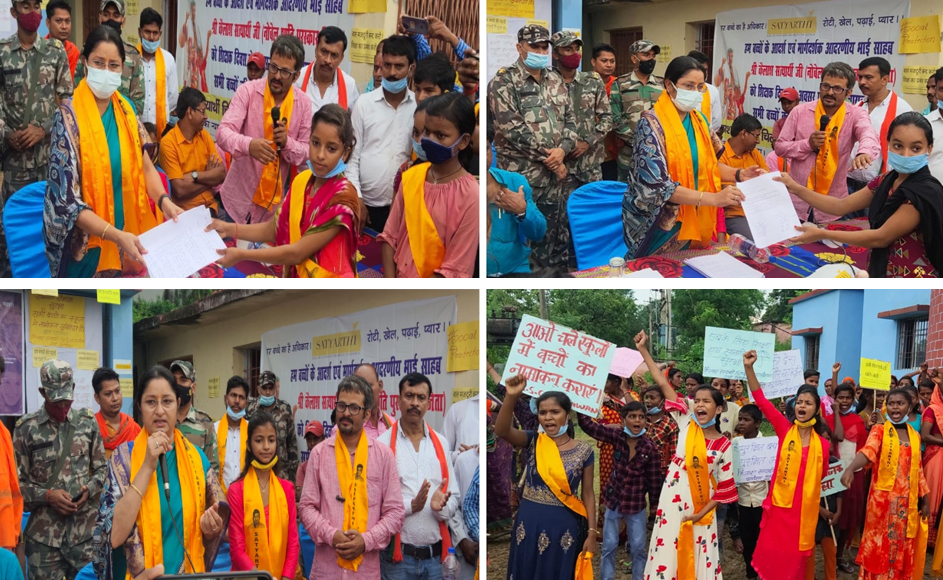 ---
Health and Aadhar Card Enrolment Camp Organised in Koderma, Jharkhand
Kailash Satyathi Children's Foundation (KSCF) organized a health and Aadhar Card enrolment camp in Koderma, Jharkhand. The health camp organized in association with Aryan Hospital (the nodal hospital under "Prime Minister Jan Arogya Program)' in Koderma facilitated health check ups for 336 persons including children and women. Through this scheme, 50 persons were also issued the "Golden Card" which allows for free treatment upto Rs.5 Lakh.
KSCF also organized an Aadhar Card enrolment camp in two places which benefitted people from 11 Bal Mitra Grams. During this camp, 84 Aadhar Cards were issued. Aadhar Card is a mandatory document for linking with various social security schemes. The absence of Aadhar Card causes obstacles in access to benefits like scholarships, cash amount of Mid Day Meals and other social benefits for children and their families.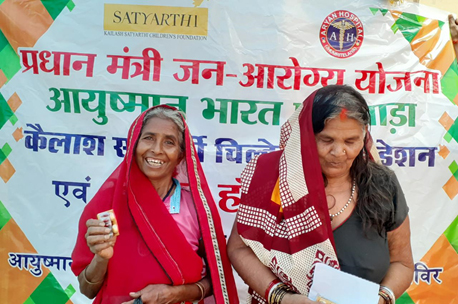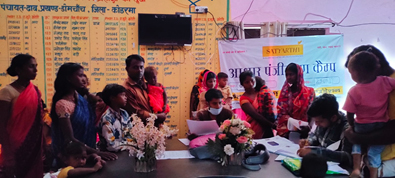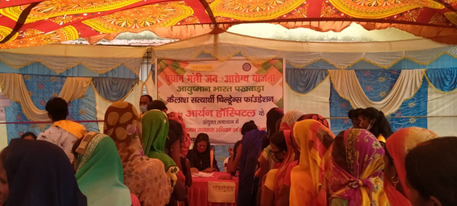 ---
As Children From BMGs Celebrate Raksha Bandhan, J'khand Cops Assure Them 'Suraksha Bandhan' & Protection From Abuse And Exploitation
Raksha Bandhan celebrations assumed a different hue this year as government functionaries including police officials vowed to ensure 'Suraksha Bandhan' or a safety net around children in Bal Mitra Grams (BMGs) in Koderma and Giridih districts of Jharkhand.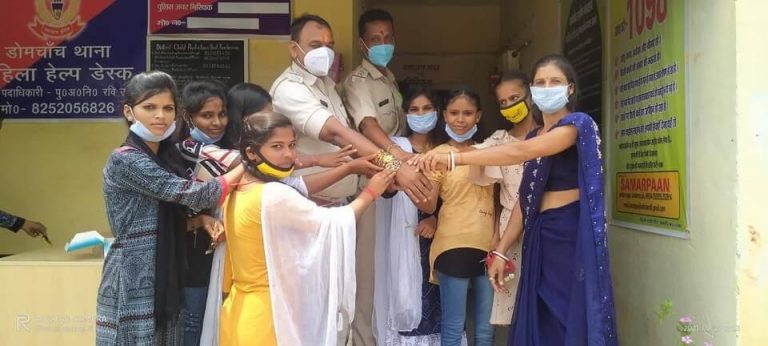 To mark the auspicious occasions, children from BMGs in Koderma tied rakhis on senior government functionaries including the District Commissioner, Superintendent of Police, Koderma District Council Chairperson, SHO of Domchanch, Dhab, Nawalshahi, Satgawan Police stations and Gram Panchayat members.
42 girls and 6 boys participated in the programme and briefed them about the Satyarthi Movement and BMGs and sought protection from exploitation as Raksha Bandhan gift. Promising to ensure a safety net around them, officials assured that protection and safety of children will be given supreme importance. Dhab SHO promised immediate legal action in any matter related to children, child marriage, child labour, child trafficking and vowed to protect children at all costs.
The celebrations at Jamdar Out Post in Giridih were led by Diana Award winner and National Bal Panchayat Vice President Champa Kumari and Tarapur Bal Panchayat Secretary Babita Kumari. They appealed for safety and protection of girls in the community while tying the rakhi to Jamdar OP in charge Lal Mohan Singh and other policemen. Nearly 35 children participated in the event.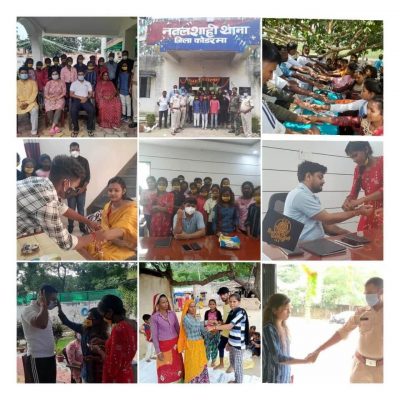 "Children of Bal Panchayat have encouraged our team by tying the sacred thread of protection to us today. We will always give priority to the safety of our daughters. We will continue to support Kailash Satyarthi Children's Foundation in the fight against child labour, child marriage and child trafficking," Singh said.
Champa Kumari said the festival of Raksha Bandhan is being celebrated as Suraksha Bandhan Day across the country by KSCF. "We demand that every responsible citizen of the country should ensure their accountability towards the safety of daughters," she said.
Babita Kumari appealed to people to help KSCF's movement in ensuring security, social justice and education for children and help create a child-friendly society.
Mansadih OP in charge assured the children that they are always with them in their fight against child marriage, child trafficking, child labour and child abuse. "I would like to thank all the girls & KSCF team for providing such a memorable moment for us. This brother-sister relationship of ours will never be broken," he said.
---
With KSCF's Intervention, Kundi Village in Jharkhand Witnesses Development After Years of Struggle
Kundi is one of the most impoverished villages in the mica mining areas in Jharkhand. Before KSCF's intervention, the village was found to be lacking all basic amenities, its people did not have access to government welfare schemes and its children worked in mica collection rather than attending schools.
Given the dire circumstances of Kundi village, in April 2020, it was formally adopted as a Bal Mitra Gram (BMG). Upon the interaction with the villagers, it was found that the village's local primary school was only half-constructed since 2012 and had 74 children enrolled as per government record.
However, according to the villagers, children never attended the school as there was no teacher and no provision for the mid-day meal, study materials, and other facilities. Besides this, prolonged negligence and corruption from the government agencies' side left the partially constructed school damaged for a long time. The nearby school which is 7 to 8 kilometres far from the village, was too far a distance to travel for small children. Hence, they chose to collect mica scraps and earn a living too. The BMG team was also informed that dozens of children from the village were trafficked to Gujarat and Kolkata for child labour in the past.
The village also lacked facilities of roads, medical care and clean drinking water.
Kundi Village Changes its Destiny after KSCF's Intervention
BMG team facilitates access to government welfare schemes and education
Taking cognizance of this violation of children's right to education, the BMG team wrote an application to the National Commission for Protection of the Child Rights (NCPCR) and used social media to highlight the situation by tagging the letter to NCPCR's social media page. The team kept following up with the NCPCR offices for swift action on their application.
In the last week of January 2021, NCPCR issued a direction to the district administration to submit a status report on the schools' condition. The Administration was further asked to file its response within twenty days of the direction.
The result of this was swift action from the side of the Block Education Officer, for the school teachers to provide immediate COVID-19 relief assistance to the children on behalf of the Government. The teachers were also directed to distribute school uniforms and study materials to the children. Even though the school construction work is still pending, the Block Education Officer has assured the use of funds available with the School Management Committee for the construction work.
The BMG team also helped two girls in securing admission in Kasturba Gandhi Balika Vidyalaya and enlisting 12 students for admission. The team additionally regularized 70 dropped children and enrolled 45 children in school.
15 community members were also linked with a pension scheme and 19 people received the Below Poverty Line Card for subsidized ration supply from the government.
Ration for 15 days to the families of the persons deceased from Malaria and Diahorrea was also facilitated by the BMG team. The wife of the deceased was linked with the widow pension, housing scheme, other security schemes and also arranged for regular supply of ration from the administration.
This was an overwhelming moment for the community members, as their voices received a response from the decision-makers.
BMG team facilitates road construction connecting the village
Given that Kundi village was not on the radar of infrastructure development, it also lacked a proper road that connected it to the rest of the nearby areas. BMG team, therefore, facilitated the construction of a 7 kilometre PCC road to connect the village with the main road and a 400 feet road within the village.
BMG team installs 3 handpumps in the village
During the intervention, the BMG team also found the village to have a scarcity of safe drinking. BMG team, therefore, worked with Gram Panchayat and Public Health Department, and it resulted in the installation of three handpumps in the village which benefitted 450 community people.
BMG team fights Malaria and Diarrhoea in the village
Malaria and diarrhoea were found to be common diseases in the village. Lack of access to medical care for the people led to many fatalities especially women and children in the village. The recent outbreak of diarrhoea in July 2021 was one of such medical emergencies in the village. Within 25 days three community people including two children passed away as they did not receive treatment on time. COVID-19 cases and lockdown restrictions further aggravated the situation and delayed the necessary help on time.
To ensure the villagers are protected from the disease, the team organised health camps to spread awareness on malaria and facilitated health check-ups for the villagers. The team also distributed 98 mosquito kits. Indoor Residual Spraying and DDT was also carried out in the village for the protection of the people.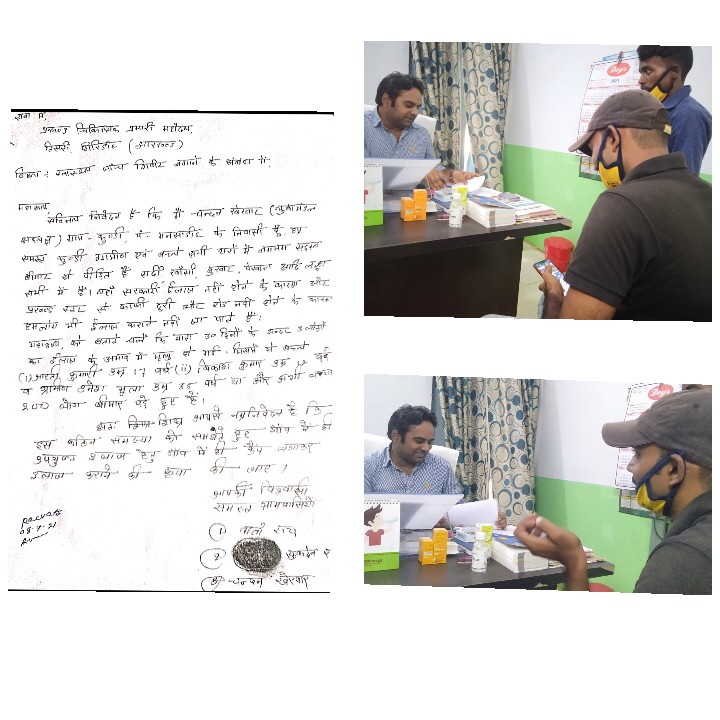 When the BMG programme began in Jharkhand's remote Topa Pahadi village in 2006-2007, acute water scarcity being faced by the villagers came to light forcing women and girls to walk for kilometers to fetch water.
This struggle to meet daily water requirements had another side effect - the girls were forced to skip classes and eventually drop out of school. However, to prevent children from dropping out of schools, non-formal schools were started by KSCF. Besides this, field staff and stakeholder's groups continued to monitor children to ensure their attendance in the nearby government school.
Alongside, to tide over the problem, KSCF developed a water reservoir with community support in 2007. However, with time, mining activities in the village contaminated the water. The presence of fluoride in the water made it unsafe for consumption.
To address the issue of contaminated water, KSCF constructed a deep bore well in the village and attached a water tank with a storage capacity of 5,000 lt which was inaugurated on January 25, 2020, in the presence of community leaders.
Today, this water tank provides water supply to 49 households from Topa Pahadi village, as well as to tribal settlements in the nearby villages of Faguni and Tetariya.